Congratulations to Matt Young and Yolarnie Amepou on securing funding from the Mohamed bin Zayed Species Conservation Fund for their work in Papua New Guinea. The project is administered by the Institute for Applied Ecology at the University of Canberra in partnership with the Piku Biodiversity Network in PNG.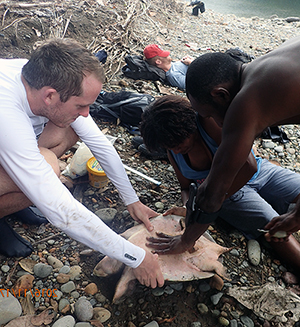 The broad aim of the program of activity on the pig-nosed turtle, in which this project is embedded, is to raise community awareness of deterioration in the rich environmental resources upon which they draw, to generate and disseminate new information on the causes and the means by which this can addressed, and to build constituency and capacity in the community to make and implement decisions on conservation management drawing upon the best available evidence.
Specifically, Matt and Yolarnie will be
Further promoting community-led conservation by establishing a basis for expanding the Kikori program to communities from the Vailala, Purari and Turama catchment regions in the Gulf Province, hopefully with continued support from the petroleum industry.
Using novel genetic approaches to delineate the population structure of pig-nosed turtles in the Kikori catchment region, and throughout the Gulf of Papua to determine if the Kikori turtles are a discrete unit that can be effectively managed locally, or if they are part of a broader admixing population extending across the Gulf of Papua. This will inform the PBN conservation program already acting in the Kikori region of the scale of conservation action required to safeguard the turtles in the Kikori.
Developing genetic resources and analyses for assignment of provenance to assist in combatting wildlife trafficking and for the repatriation of seized animals.
Funding from the Mohamed bin Zayed Species Conservation Fund will accelerate progress and increase the viability of this conservation and research project by enabling us to conduct on-ground conservation fieldwork in Papua New Guinea.
The team heads bush in early January 2018 to meet with communities, first in the Vailala River, via Kerema. We wish them safe travels.